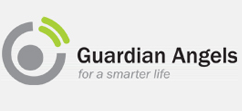 The Guardian Angels (GA) project addresses challenges which are of utmost importance for Europe's society, economy and environment and which will have to be tackled in the next 10-15 years. Health and an ageing society, safety and security, and transportation, will all be addressed by the energy-efficient systems of the GA project.
The GA project aims to develop technologies for extremely energy-efficient, smart, electronic personal companions that will assist humans from infancy to old age. These devices will be private and secure systems featuring sensing beyond human capabilities, computation, and communication. The ethical aspects of GA applications will be assessed from the beginning of the project, through interactions between researchers, an ethics board of experts and end users, and privacy and security will be the highest priorities.
Guardian Angels are defined as future zero‐power, intelligent, autonomous systems featuring sensing, computation and communication beyond human aptitudes.
Institutions, research groups and prospective funders from Europe and beyond which might be interested in joining and\or supporting Guardian Angels development are invited to contact the FLAG-ERA WP6 Leader, prof. Eugenio Guglielmelli (e.guglielmelli@unicampus.it) or the Guardian Angels Liaison Group Leader, (Adrian Ionescu, adrian.ionescu@epfl.ch – Christofer Hierold, christofer.hierold@micro.mavt.ethz.ch) for more information on the ongoing research activities.